RSS
Pass variable in Azure devops pipelines
Use variable to pass data in Azure devops pipelines
I have an Azure devops pipeline and want to pass some data between different tasks. One way to do is use environment var.
Variables give you a convenient way to get key bits of data into various parts of the pipeline. As the name suggests, the value of a variable may change from run to run or job to job of your pipeline. Almost any place where a pipeline requires a text string or a number, you can use a variable instead of hard-coding a value. The system will replace the variable with its current value during the pipeline's execution.
To access var, the syntax is $(varname), this can be used in Azure devops portal or yaml file.
Set var across task
To set var in Azure pipeline, need use task.setvariable in following format:
echo

 

"##vso[task.setvariable variable=myvar]foo bar"



Now in next Azure pipeline task, it use access var myvar through $(myvar).
Available variables
Azure have predefined variables here.
I curious what variables available and the its value in Azure pipeline so I can better config pipeline use those variables,
I create a Bash task use env command to log all the environment variables: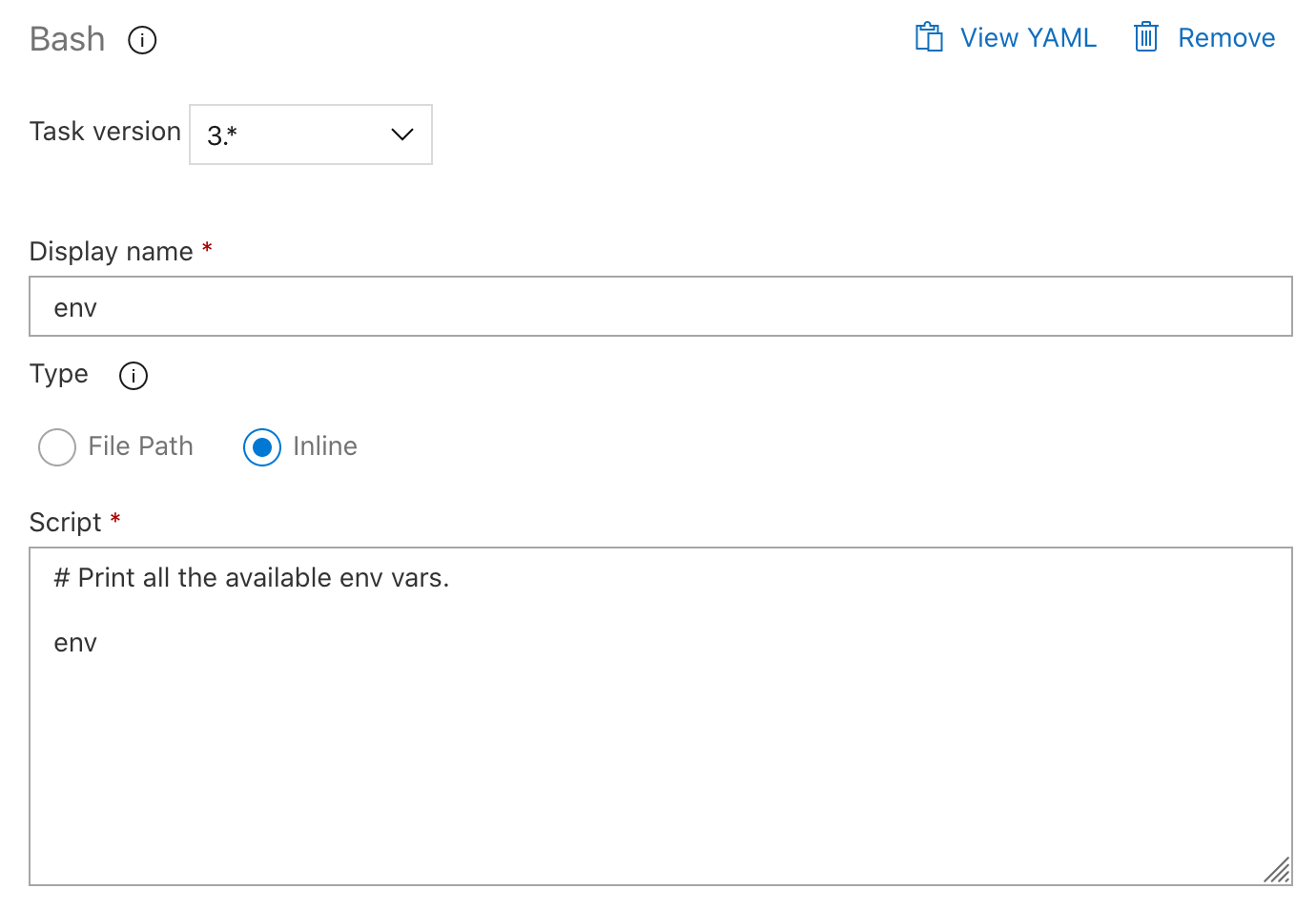 Or config this new task through YAML file:
steps

:




- 

bash

:

 

|




   # Print all the available env vars.





   env

   


  

displayName

:

 

env



For future reference, the following is the env output:
##[section]Starting: env
=================================================
Task         : Bash
Description  : Run a Bash script on macOS, Linux, or Windows
Version      : 3.163.1
Author       : Microsoft Corporation
Help         : https://docs.microsoft.com/azure/devops/pipelines/tasks/utility/bash
==============================================================================
Generating script.
[command]"C:\Program Files\Git\bin\bash.exe" --noprofile --norc -c pwd
========================== Starting Command Output ===========================
[command]"C:\Program Files\Git\bin\bash.exe" --noprofile --norc /d/a/_temp/a6edbca5-dde4-4b7d-adb3-cf0024c12046.sh
USERDOMAIN=fv-az335
OS=Windows_NT
COMMONPROGRAMFILES=C:\Program Files\Common Files
AGENT_HOMEDIRECTORY=C:\agents\2.164.8
PROCESSOR_LEVEL=6
PSModulePath=C:\Modules\azurerm_2.1.0;C:\Modules\azure_2.1.0;C:\Users\packer\Documents\WindowsPowerShell\Modules;C:\Program Files\WindowsPowerShell\Modules;C:\windows\system32\WindowsPowerShell\v1.0\Modules;C:\Program Files\Microsoft SQL Server\130\Tools\PowerShell\Modules\
RELEASE_ATTEMPTNUMBER=1
CommonProgramW6432=C:\Program Files\Common Files
M2_HOME=C:\ProgramData\chocolatey\lib\maven\apache-maven-3.6.2
REQUESTEDFORID=8df0411e-3c97-6c2e-96c8-c300f2612512
BOOST_ROOT=C:\hostedtoolcache\windows\Boost\1.69.0
RELEASE_DEFINITIONENVIRONMENTID=1
SYSTEM_STAGEDISPLAYNAME=Deploy To Dev
SYSTEM_JOBATTEMPT=1
AGENT_VERSION=2.164.8
GOROOT_1_11_X64=C:\Go1.11.12
ANDROID_HOME=C:\Program Files (x86)\Android\android-sdk
RELEASE_REQUESTEDFOREMAIL=Firstname_Lastname@example.com
CommonProgramFiles(x86)=C:\Program Files (x86)\Common Files
RELEASE_ARTIFACTS__FOO-PRODUCTION_BUILDNUMBER=develop-7513
JAVA_HOME_11_X64=C:\Program Files\Java\zulu-11-azure-jdk_11.33.15-11.0.4-win_x64
SYSTEM_TEAMFOUNDATIONSERVERURI=https://vsrm.dev.azure.com/azx-awesome/
ImageVersion=20200130.1
AGENT_TOOLSDIRECTORY=C:/hostedtoolcache/windows
INPUT_ARGUMENTS=
SYSTEM_DEFINITIONID=1
AGENT_DISABLELOGPLUGIN_TESTFILEPUBLISHERPLUGIN=true
RELEASE_DEPLOYMENTID=17
AGENT_WORKFOLDER=D:\a
RELEASE_RELEASEDESCRIPTION=
AZURE_EXTENSION_DIR=C:\Program Files\Common Files\AzureCliExtensionDirectory
GOROOT_1_9_X64=C:\Go1.9.7
PUBLIC=C:\Users\Public
SYSTEM_DEFINITIONNAME=New release pipeline
AGENT_TEMPDIRECTORY=D:\a\_temp
BOOST_ROOT_1_72_0=C:\hostedtoolcache\windows\Boost\1.72.0
EXEPATH=C:\Program Files\Git\bin
RELEASE_ENVIRONMENTID=14
SYSTEM_PHASENAME=Phase_1
RELEASE_PRIMARYARTIFACTSOURCEALIAS=_FOO-production
SYSTEM_JOBIDENTIFIER=Stage_81682fe045cf4f0289829127534b0b7c_1_1.Phase_1.__default
USERNAME=VssAdministrator
ChocolateyInstall=C:\ProgramData\chocolatey
JAVA_HOME=C:\Program Files\Java\zulu-8-azure-jdk_8.40.0.25-8.0.222-win_x64
MonAgentClientLocation=C:\Packages\Plugins\Microsoft.Azure.Geneva.GenevaMonitoring\2.16.0.1\Monitoring\Agent
LOGONSERVER=\\fv-az335
PROCESSOR_ARCHITECTURE=AMD64
SYSTEM_JOBPARALLELISMTAG=Private
M2=\bin
GeckoWebDriver=C:\SeleniumWebDrivers\GeckoDriver
RELEASE_REASON=Manual
RELEASE_ARTIFACTS__FOO-PRODUCTION_TYPE=AzureContainerRepository
RELEASE_RELEASENAME=Release-14
LOCALAPPDATA=C:\Users\VssAdministrator\AppData\Local
RELEASE_DEPLOYMENT_REQUESTEDFOR=Firstname Lastname
M2_REPO=C:\ProgramData\m2
DEPLOY_SLOT=production
COMPUTERNAME=fv-az335
RELEASE_DEPLOYMENT_REQUESTEDFORID=8cf0410e-3c97-6c21-96c8-c30042614512
AGENT_OS=Windows_NT
SYSTEMDRIVE=C:
USERPROFILE=C:\Users\VssAdministrator
PATHEXT=.COM;.EXE;.BAT;.CMD;.VBS;.VBE;.JS;.JSE;.WSF;.WSH;.FOO
SYSTEMROOT=C:\windows
ENDPOINT_URL_SYSTEMVSSCONNECTION=https://vsrm.dev.azure.com/azx-awesome/
USERDOMAIN_ROAMINGPROFILE=fv-az335
RELEASE_REQUESTEDFOR=Firstname Lastname
PROCESSOR_IDENTIFIER=Intel64 Family 6 Model 79 Stepping 1, GenuineIntel
SYSTEM_WORKFOLDER=D:\a
GRADLE_HOME=C:\ProgramData\chocolatey\lib\gradle\tools\gradle-6.0.1
AGENT_DISABLELOGPLUGIN_TESTRESULTLOGPLUGIN=true
AGENT_ROOTDIRECTORY=D:\a
RELEASE_RELEASEURI=vstfs:///ReleaseManagement/Release/14
PWD=/d/a/r1/a
MSMPI_BIN=C:\Program Files\Microsoft MPI\Bin\
HOME=/c/Users/VssAdministrator
AGENT_ID=42
GOROOT=C:\Go1.12.7
TMP=/tmp
ANDROID_NDK_HOME=C:\Microsoft\AndroidNDK64\android-ndk-r15c
SYSTEM_TOTALJOBSINPHASE=1
RELEASE_ARTIFACTS__FOO-PRODUCTION_BUILDID=develop-7513
SYSTEM_COLLECTIONURI=https://vsrm.dev.azure.com/azx-awesome/
ChromeWebDriver=C:\SeleniumWebDrivers\ChromeDriver
RUNNER_TOOLSDIRECTORY=C:/hostedtoolcache/windows
JAVA_HOME_8_X64=C:\Program Files\Java\zulu-8-azure-jdk_8.40.0.25-8.0.222-win_x64
AGENT_OSARCHITECTURE=X64
SYSTEM_CULTURE=en-US
SYSTEM_TEAMPROJECTID=81682fe0-45ce-4f02-8982-9927534b0b7c
RELEASE_ENVIRONMENTNAME=Deploy To Dev
RELEASE_DEPLOYMENT_REQUESTEDFOREMAIL=Firstname_Lastname@example.com
VSTS_AGENT_PERFLOG=c:\vsts\perflog
CONDA=C:\Miniconda
IEWebDriver=C:\SeleniumWebDrivers\IEDriver
BUILD_TYPE=AzureContainerRepository
GOROOT_1_13_X64=C:\Go1.13
BOOST_ROOT_1_69_0=C:\hostedtoolcache\windows\Boost\1.69.0
SYSTEM_JOBPOSITIONINPHASE=1
SYSTEM_JOBID=f1ed5861-42cf-5cea-8ff0-dab22962cff3
PHPROOT=c:\tools\php
AGENT_JOBNAME=Run on agent
SYSTEM_STAGEATTEMPT=1
SYSTEM_PIPELINESTARTTIME=2020-02-11 23:44:55+00:00
RELEASE_DEPLOYPHASEID=17
RELEASE_ENVIRONMENTS_DEPLOY_TO_DEV_STATUS=InProgress
PROCESSOR_REVISION=4f01
RELEASE_ENVIRONMENTURI=vstfs:///ReleaseManagement/Environment/11
SYSTEM_TASKINSTANCENAME=Bash
GOROOT_1_12_X64=C:\Go1.12.7
NUMBER_OF_PROCESSORS=2
SYSTEM_PLANID=2a16d23a-e3d2-4a2e-97c4-b3f7af77a2b7
TASK_DISPLAYNAME=env
ProgramW6432=C:\Program Files
SYSTEM_HOSTTYPE=release
AGENT_SERVEROMDIRECTORY=C:\agents\2.164.8\externals\vstsom
MSDEPLOY_HTTP_USER_AGENT=VSTS_a05a13d9-a33d-47dd-84c4-417f58390198_Release__14_14_1
TF_BUILD=True
RELEASE_DEFINITIONNAME=New release pipeline
AZURE_HTTP_USER_AGENT=VSTS_a05a13d9-a33d-47dd-84c4-417f58390198_Release__14_14_1
GOROOT_1_10_X64=C:\Go1.10.8
SYSTEM_PHASEDISPLAYNAME=Run on agent
COMSPEC=C:\windows\system32\cmd.exe
SYSTEM_TASKDEFINITIONSURI=https://dev.azure.com/azx-awesome/
APPDATA=C:\Users\VssAdministrator\AppData\Roaming
TERM=cygwin
SYSTEM_TASKDISPLAYNAME=env
SYSTEM_STAGENAME=Stage_81682fe045ce4f0289829927534b0b7c_1_1
VSTS_PROCESS_LOOKUP_ID=vsts_0d3956ca-568b-4562-ae99-853674af7845
SYSTEM=release
SYSTEM_PHASEATTEMPT=1
VCPKG_INSTALLATION_ROOT=C:\vcpkg
SYSTEM_JOBNAME=__default
GCM_INTERACTIVE=Never
RELEASE_ARTIFACTS__FOO-PRODUCTION_DEFINTIONID=foo-production
BUILD_DEFINITIONID=foo-production
SYSTEM_PHASEID=e09202ee-4c4c-51e7-8ae6-5ba2c80c73e2
AGENT_RELEASEDIRECTORY=D:\a\r1\a
WINDIR=C:\windows
AGENT_MACHINENAME=fv-az335
RELEASE_REQUESTEDFORID=8cf0410e-3c97-6c21-96c8-c30042614512
agent.jobstatus=Succeeded
COBERTURA_HOME=C:\cobertura-2.1.1
BUILD_DEFINTIONID=foo-production
JAVA_HOME_7_X64=C:\Program Files\Java\zulu-7-azure-jdk_7.31.0.5-7.0.232-win_x64
BUILD_DEFINITIONNAME=foo-production
ANDROID_NDK_PATH=C:\Microsoft\AndroidNDK64\android-ndk-r15c
SYSTEM_ARTIFACTSDIRECTORY=D:\a\r1\a
ProgramData=C:\ProgramData
SHLVL=1
PLINK_PROTOCOL=ssh
NPM_CONFIG_CACHE=C:\npm\cache
PROGRAMFILES=C:\Program Files
AGENT_NAME=Hosted Agent
BUILD_BUILDNUMBER=develop-7513
ALLUSERSPROFILE=C:\ProgramData
TEMP=/tmp
SYSTEM_JOBDISPLAYNAME=Run on agent
MAVEN_OPTS=-Xms256m
SYSTEM_SERVERTYPE=Hosted
SYSTEM_TIMELINEID=3a46d23a-e3d8-4a2e-97c4-b3f7ae77a5c8
RELEASE_TRIGGERINGARTIFACT_ALIAS=
AGENT_RETAINDEFAULTENCODING=false
MSYSTEM=MINGW64
SYSTEM_TASKINSTANCEID=16eb2309-ff06-5080-cfa3-e946532acdc5
SYSTEM_DEFAULTWORKINGDIRECTORY=D:\a\r1\a
AGENT_JOBSTATUS=Succeeded
SBT_HOME=C:\Program Files (x86)\sbt\
ANT_HOME=C:\ProgramData\chocolatey\lib\ant\apache-ant-1.10.5
SYSTEM_TEAMPROJECT=MobileSecurityCore
ProgramFiles(x86)=C:\Program Files (x86)
PATH=/mingw64/bin:/usr/bin:/c/Users/VssAdministrator/bin:/c/hostedtoolcache/windows/Python/3.6.8/x64:/c/hostedtoolcache/windows/Python/3.6.8/x64/Scripts:/c/Program Files/Mercurial:/c/ProgramData/kind:/c/vcpkg:/c/cf-cli:/c/Program Files (x86)/NSIS:/c/Program Files/Mercurial:/c/hostedtoolcache/windows/Boost/1.69.0:/c/Program Files/dotnet:/c/mysql-5.7.21-winx64/bin:/c/Program Files/Java/zulu-8-azure-jdk_8.40.0.25-8.0.222-win_x64/bin:/c/Program Files (x86)/sbt/bin:/c/Rust/.cargo/bin:/c/hostedtoolcache/windows/Ruby/2.5.7/x64/bin:/c/Go1.12.7/bin:/bin:/c/hostedtoolcache/windows/Python/3.6.8/x64/Scripts:/c/hostedtoolcache/windows/Python/3.6.8/x64:/c/npm/prefix:/c/Program Files (x86)/Microsoft SDKs/Azure/CLI2/wbin:/c/Program Files/Microsoft MPI/Bin:/c/windows/system32:/c/windows:/c/windows/System32/Wbem:/c/windows/System32/WindowsPowerShell/v1.0:/c/ProgramData/Chocolatey/bin:/c/Program Files/Docker:/c/Program Files/PowerShell/6:/c/Program Files/dotnet:/c/Program Files/Microsoft SQL Server/130/Tools/Binn:/c/Program Files (x86)/Microsoft SQL Server/110/DTS/Binn:/c/Program Files (x86)/Microsoft SQL Server/120/DTS/Binn:/c/Program Files (x86)/Microsoft SQL Server/130/DTS/Binn:/c/Program Files (x86)/Microsoft SQL Server/140/DTS/Binn:/c/Program Files (x86)/Microsoft SQL Server/150/DTS/Binn:/c/Program Files (x86)/Windows Kits/10/Windows Performance Toolkit:/c/Program Files/Microsoft Service Fabric/bin/Fabric/Fabric.Code:/c/Program Files/Microsoft SDKs/Service Fabric/Tools/ServiceFabricLocalClusterManager:/c/Program Files/nodejs:/cmd:/mingw64/bin:/usr/bin:/c/tools/php:/c/Program Files (x86)/sbt/bin:/c/Program Files (x86)/Subversion/bin:/c/SeleniumWebDrivers/ChromeDriver:/c/ProgramData/chocolatey/lib/maven/apache-maven-3.6.2/bin:/c/Program Files/CMake/bin:/c/Strawberry/c/bin:/c/Strawberry/perl/site/bin:/c/Strawberry/perl/bin:/c/Program Files/OpenSSL/bin:/c/Users/VssAdministrator/.dotnet/tools:/c/Program
NPM_CONFIG_PREFIX=C:\npm\prefix
RELEASE_ARTIFACTS__FOO-PRODUCTION_DEFINITIONID=foo-production
WIX=C:\Program Files (x86)\WiX Toolset v3.11\
SELENIUM_JAR_PATH=C:\selenium\selenium-server-standalone.jar
HOMEDRIVE=C:
SYSTEM_COLLECTIONID=a05a13d9-a33d-47dd-84c4-417f58390098
SYSTEM_TEAMFOUNDATIONCOLLECTIONURI=https://dev.azure.com/azx-awesome/
HOMEPATH=\Users\VssAdministrator
RELEASE_DEFINITIONID=1
RELEASE_SKIPARTIFACTSDOWNLOAD=False
GIT_TERMINAL_PROMPT=0
RELEASE_RELEASEID=14
RELEASE_ARTIFACTS__FOO-PRODUCTION_DEFINITIONNAME=foo-production
SYSTEM_STAGEID=95cbcc97-ca20-5423-1f2a-c4d17b4f963c
SYSTEM_ENABLEACCESSTOKEN=False
BUILD_BUILDID=develop-7513
RELEASE_DEPLOYMENT_STARTTIME=2020-02-11 23:44:46Z
RELEASE_RELEASEWEBURL=https://dev.azure.com/azx-awesome/a1682fe0-45ce-4f02-8982-d927534b0b8c/_release?releaseId=14&_a=release-summary
VS140COMNTOOLS=C:\Program Files (x86)\Microsoft Visual Studio 14.0\Common7\Tools\
PYTHON_HOME=C:/hostedtoolcache/windows\Python\3.6.8\x64
_=/usr/bin/env
##[section]Finishing: env

Reference
Encrypted your DNS to protect your privacy and firewall to block phishing, malicious domains, block ads in all browsers and apps
Ad