标签:伊索寓言 儿童故事集 中英对照翻译 双语故事 拼音注音
Last Update 最后更新: 2022-01-12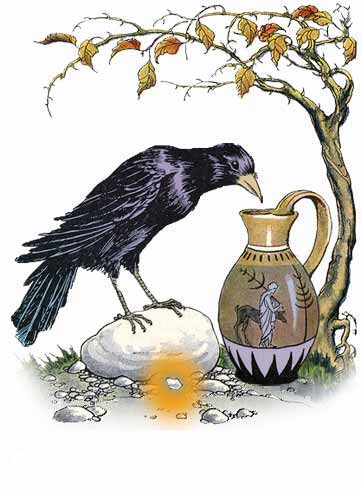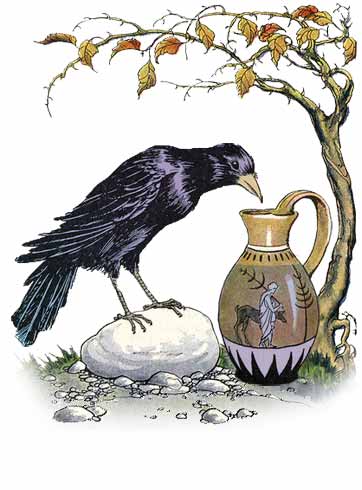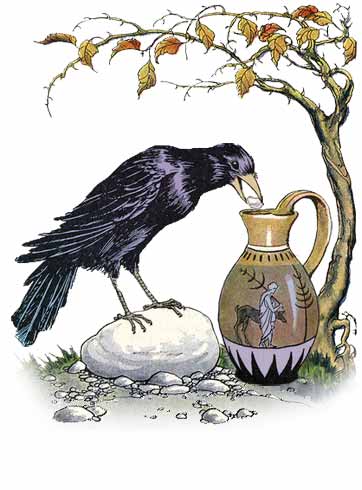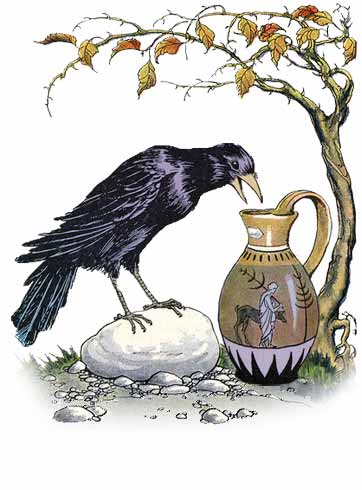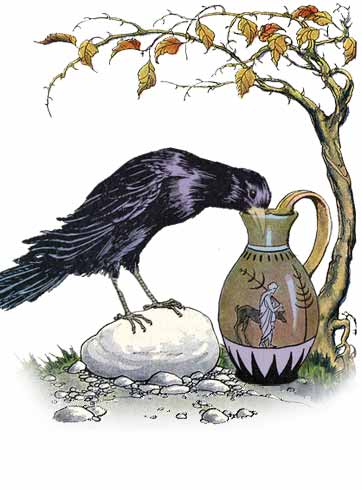 Total Words: 113
In a spell of dry weather, when the Birds could find very little to drink, a thirsty Crow found a pitcher with a little water in it. But the pitcher was high and had a narrow neck, and no matter how he tried, the Crow could not reach the water. The poor thing felt as if he must die of thirst.
Then an idea came to him. Picking up some small pebbles, he dropped them into the pitcher one by one. With each pebble the water rose a little higher until at last it was near enough so he could drink.
---
Moral: In a pinch a good use of our wits may help us out.
---
酷暑难耐,群鸟几乎都找不到水喝。这时候,一只口渴的乌鸦发现了一个还有点儿水的罐子。但是,罐子太高,瓶颈很窄,无论它怎么做,都喝不到罐子里的水。这可怜的小家伙感觉,就好像自己会被渴死。
突然,它想出了一个主意。它衔来一些小小的鹅卵石,并一个一个的丢进罐子里。丢进一个鹅卵石,罐子里的水就升高了一点。终于,水面达到足够高了,它成功地喝到了水。
---
寓意:在紧要关头,善用我们的智慧可能会帮助我们解决问题。
---
The Aesop Fables for Children 伊索寓言儿童故事全集 (图文英汉双语版) (this work), the english fables originally from The Aesop for Children: with Pictures by Milo Winter published by Rand, McNally & Co in 1919. Some of pictures come from Library of Congress. This work is considered to be in the public domain in the United States. The Aesop Fables for Children contains the text of selected fables, color pictures, video, and interactive animations, and will be enjoyed by readers of any age.
The Aesop Fables for Children are a collection of stories designed to teach moral lessons credited to Aesop, a Greek slave and story-teller thought to have lived between 620 and 560 BCE.
Aesop's fables are some of the most well known in the world and have been translated in multiple languages and become popular in dozens of cultures through the course of five centuries. They have been told and retold in a variety of media, from oral tradition to written storybooks to stage, film and animated cartoon versions—even in architecture. This page include translation to Simplified Chinese.
伊索寓言是一部世界上最早的寓言故事集,是世界文学史上流传最广的寓言故事之一。 本文包含伊索寓言故事英文原文和简体中文翻译(中英双语)。