标签:伊索寓言 儿童故事集 中英对照翻译 双语故事 拼音注音
Last Update 最后更新: 2022-01-12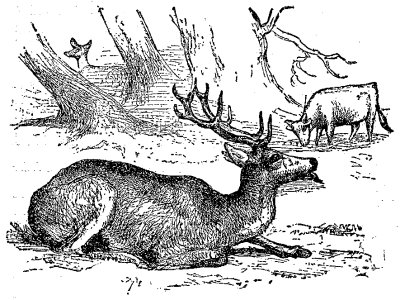 Total Words: 84
A Stag had fallen sick. He had just strength enough to gather some food and find a quiet clearing in the woods, where he lay down to wait until his strength should return. The Animals heard about the Stag's illness and came to ask after his health. Of course, they were all hungry, and helped themselves freely to the Stag's food; and as you would expect, the Stag soon starved to death.
---
Moral: Good will is worth nothing unless it is accompanied by good acts.
---
一只雄鹿病了。 他仅有些力气去采些食物,然后在树林里找一块安静的空地,躺下等待体力恢复。 动物们听说雄鹿生病了,就来询问他的健康状况。当然,他们都饿了,随便吃着雄鹿的食物;正如你所料,雄鹿很快就饿死了。
---
寓意:除非伴随着良好的行为,善意一文不值。
---
The Aesop Fables for Children 伊索寓言儿童故事全集 (图文英汉双语版) (this work), the english fables originally from The Aesop for Children: with Pictures by Milo Winter published by Rand, McNally & Co in 1919. Some of pictures come from Library of Congress. This work is considered to be in the public domain in the United States. The Aesop Fables for Children contains the text of selected fables, color pictures, video, and interactive animations, and will be enjoyed by readers of any age.
The Aesop Fables for Children are a collection of stories designed to teach moral lessons credited to Aesop, a Greek slave and story-teller thought to have lived between 620 and 560 BCE.
Aesop's fables are some of the most well known in the world and have been translated in multiple languages and become popular in dozens of cultures through the course of five centuries. They have been told and retold in a variety of media, from oral tradition to written storybooks to stage, film and animated cartoon versions—even in architecture. This page include translation to Simplified Chinese.
伊索寓言是一部世界上最早的寓言故事集,是世界文学史上流传最广的寓言故事之一。 本文包含伊索寓言故事英文原文和简体中文翻译(中英双语)。