标签:伊索寓言 儿童故事集 中英对照翻译 双语故事 拼音注音
Last Update 最后更新: 2022-01-12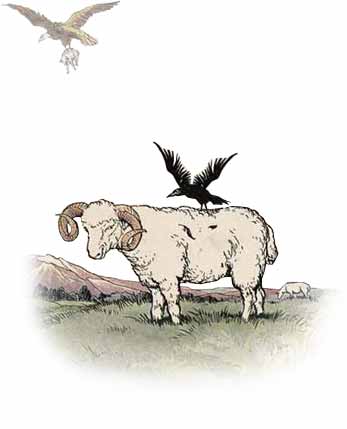 Total Words: 184
An Eagle, swooping down on powerful wings, seized a lamb in her talons and made off with it to her nest. A Jackdaw saw the deed, and his silly head was filled with the idea that he was big and strong enough to do as the Eagle had done. So with much rustling of feathers and a fierce air, he came down swiftly on the back of a large Ram. But when he tried to rise again he found that he could not get away, for his claws were tangled in the wool. And so far was he from carrying away the Ram, that the Ram hardly noticed he was there.
The Shepherd saw the fluttering Jackdaw and at once guessed what had happened. Running up, he caught the bird and clipped its wings. That evening he gave the Jackdaw to his children.
"What a funny bird this is!" they said laughing, "what do you call it, father?"
"That is a Jackdaw, my children. But if you should ask him, he would say he is an Eagle."
---
Moral: Do not let your vanity make you overestimate your powers.
---
鹰突然从峭壁上飞下来,把一只羔羊叼走了。见此情景,穴鸟不甘示弱,刻意模仿鹰的做法,啪嗒一声猛扑到公羊背上,不料脚爪被公羊浓密的鬈毛缠住了,任他怎么拼命扑动翅膀,也休想再飞得起来。
最后,轮到牧人大显身手了,他跑上去一下逮住穴鸟,剪去了翅膀上的羽毛。傍晚时分,他把穴鸟带回家,送给了孩子们。孩子们想知道那是什么鸟,牧人回答说:"就我所知,这分明是一只穴鸟,可他偏偏希望人家把他看作是一头雄鹰。"
---
寓意:不要让虚荣心让你高估自己的力量。
---
The Aesop Fables for Children 伊索寓言儿童故事全集 (图文英汉双语版) (this work), the english fables originally from The Aesop for Children: with Pictures by Milo Winter published by Rand, McNally & Co in 1919. Some of pictures come from Library of Congress. This work is considered to be in the public domain in the United States. The Aesop Fables for Children contains the text of selected fables, color pictures, video, and interactive animations, and will be enjoyed by readers of any age.
The Aesop Fables for Children are a collection of stories designed to teach moral lessons credited to Aesop, a Greek slave and story-teller thought to have lived between 620 and 560 BCE.
Aesop's fables are some of the most well known in the world and have been translated in multiple languages and become popular in dozens of cultures through the course of five centuries. They have been told and retold in a variety of media, from oral tradition to written storybooks to stage, film and animated cartoon versions—even in architecture. This page include translation to Simplified Chinese.
伊索寓言是一部世界上最早的寓言故事集,是世界文学史上流传最广的寓言故事之一。 本文包含伊索寓言故事英文原文和简体中文翻译(中英双语)。